Valerie Perrine received her only Oscar nomination for playing Honey Bruce in Lenny.
Lenny was probably the first biopic that was made like a documentary that featured reenacted interviews with the people. It works wonderfully and it's a tired cliche these days, but the freshness of Lenny still works all these years later. It follows the life of controversial comedian Lenny Bruce, his uprising and his downfall. At the other end of the movie is his wife Honey, a stripper and hardcore drug addict.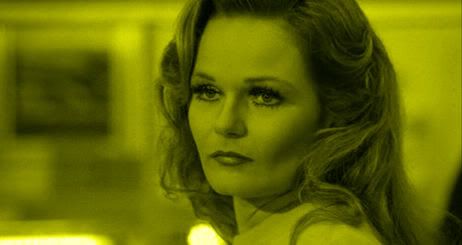 Valerie Perrine was a relative unknown when she got the role of Honey, and she was never able to live up to the sexy simplicity she brought to her most famous role. Honey is just as complex and troubled as Lenny himself, and Perrine (who one could easily call a limited actress) is up for the challenge. She brings out all the necessary qualities of Honey: sex appeal, simplicity, and a loving wife. But, it's how she transitions herself through the movie. There's a brutal heartbreaking nature of her performance that both intrigued me and depressed me, she knows how to humiliate herself on screen perhaps like no other.
Perrine also has the distinction of being a Best Actress nominee who is constantly accused of being supporting. I personally think she is the leading actress of Lenny, but I can see where the argument comes from, as she disappears for half of the movie. But, I think either category would have been fine (and she would have won supporting had she been nominated there). Still, the important thing is too focus on her performance, and that is a great accomplishment, a terrific performance full of intense creativity and unexpected choices.