Elizabeth Taylor received her second Oscar nomination for playing Maggie Pollitt in Cat On A Hot Tin Roof.
Cat On A Hot Tin Roof is a terrific, masterful film full of sensuality and zest that only Tennessee Williams could bring to the table. It's such a well-told and fascinating story that the screen version works just as well (if not better, although a whole lot was changed) then the stage play. The story of an alcoholic ex-football player Brick who begins to drown his unknown sorrows while his father is struggling with an unknown illness. His kids jump at the chance to get his money, while Brick's wife Maggie begins to entice him back into their marriage.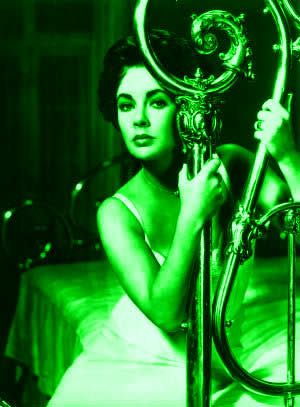 Elizabeth Taylor plays Maggie, or as she is often referred to as Maggie The Cat. I love Elizabeth Taylor - she may be remembered as being a great beauty (and an infamous controversy brewer) but her acting style is what attaches me so firmly to her. Here could be her quintessential role (if you don't count Virginia Woolf) - the beauty, the Southern sexiness, the fierce feminine intensity, it's all here. Maggie really only wants her husband to pay attention to her, rather it be something innocent or something sexual. He is cold, she is hot - she is loving, he is distant.
Taylor explodes on screen with intensity that probably she could only understand. Every sensual move and manipulative, but understanding saying is played fully and beautifully by her. The over-the-top nature of the material matches perfectly with her acting, there is nothing at all overplayed or overcooked in the performance because unlike most actors, Elizabeth Taylor really understood how Tennessee Williams wanted his characters to act like. It's a tremendously brilliant performance that still entertains and fascinates me - as she would say, Maggie The Cat really is alive.