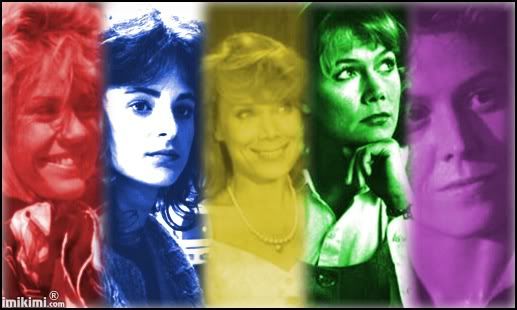 ---
5. Sigourney Weaver in "Aliens"
- It's a popular performance and widely praised, and it's one of the few widely praised performances that I see nothing in. She takes the part and adds a touch of clarity of it, but that alone isn't something I see worthy of an Oscar.
- Jane Fonda takes the awful material and turns it into her own great vehicle. She turns in a great performance that shows her ability to turn anything into gold.
- Sissy Spacek is a genius at her craft, I've said it once and I'll say it again. She is the standout of the cast (at least for me) and finds the witty balance between comedy and drama.
2. Kathleen Turner in "Peggy Sue Got Married"
- It's a hard performance to judge because on one hand she has alot going against her, the material in general, but Turner is to wonderful to not praise. Her performance is like a sweet candy that never gets old.
1. Marlee Matlin in "Children Of A Lesser God"
- She stands out this year for her loud, yet quiet performance that lasts long after the film is over. Her chemistry with William Hurt, her way of communicating herself on screen, and her overall effect makes her the true standout of this group.
---
Honorable Omissions: Farrah Fawcett in "Extremities".