Martha Scott received her only Oscar nomination for playing Emily Webb in Our Town.
Our Town was not meant to be a film - it's as simple as that. Having seen the play played out on the stage, it's not exactly a magnificent piece either. It's a very, very, very boring story that is obviously from another time and has the values of a Amish community. Focusing on various aspects of a town and with a narrator who makes sleeping look good, Our Town is nothing to be proud of.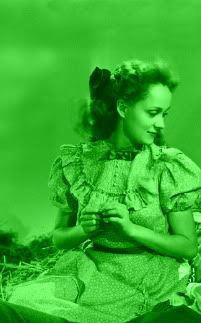 Martha Scott enters the story as Emily Webb, a part of two neighboring families. Considering the fact Scott is barely in the first hour of the film, it's surprising how she managed to cope an Oscar nomination for her performance. Even more bizarre is the performance itself. The story is jumping all over and Emily becomes involved with a dashing neighbor George - the two obviously fall in love very fast, so their is no development of their feelings or chemistry.
As soon as one might begin to question Martha Scott's Oscar nomination, her big juicy scene comes and all is explained. Alas, I didn't find the scene to even be satisfying, let alone giving the woman a nomination for her overall work. However, she does show how this performance could have been great had she (and the filmmakers) been more up to the challenge of the material. Still, barely playing romance and one strong, effecting scene at the end needn't be rewarded. She also benefits the romance is the most interesting thing about the film, but still, there is nothing of substance to extremely happy about.