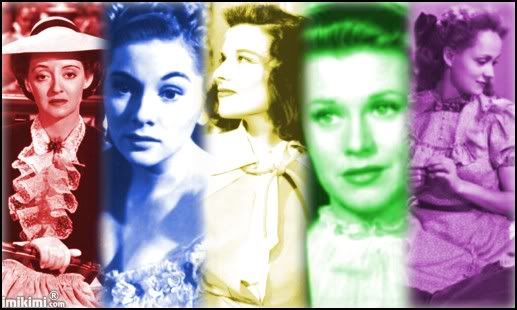 ---
5. Martha Scott in "Our Town"
- Our Town wasn't meant to come to the screen, and Scott's boring, unimpressive portrayal makes her nomination a head scratcher for the ages. One final scene only validates it, but even I don't get the sentimental.
4. Katharine Hepburn in "The Philadelphia Story"
- Honestly, there's nothing wrong with Hepburn's performance, it's just not a great performance in my opinion. She is charming enough to carry it, but not enough to make me enchanted by her.
3. Bette Davis in "The Letter"
- Stunning, she is really at her most iconic here and it shows. It's almost as if she knows she is becoming a legend and how she shined on screen. She carries The Letter into a whole other world...
2. Ginger Rogers in "Kitty Foyle"
- It's a pretty frowned upon win, but I think Ginger Rogers is wonderful in Kitty Foyle. She has sentimentality on her side, but it's not Martha Scott bad. She knows the right mix of making her character seem just like a real person.
1. Joan Fontaine in "Rebecca"
- And Fontaine wins with only a little competition from Rogers. She is extremely perfect in probably the hardest role to get right - she is luminious on-screen, showing the intense desperation and fear her character has at the same time as her love for her awful husband keeps growing. Incredible work.
---
Honorable Omissions: