Whoopi Goldberg received her first Oscar nomination for playing Celie Johnson in The Color Purple.
The Color Purple is surely a great film. Hugely watchable, and well put together by Steven Spielberg. I'm surprised at critics who call it overly sentimental, since it follows the book very closely, and the book doesn't go for the cheesy sentimentality that the critics accuse the movie of. It follows Celie, a woman who has always had it rough, and only seems to find peace when she's around her sister. Once she is married off to a much older and abusive man, known only as Mister. The cast of the movie is good, I think, but it really belongs to one person, Whoopi Goldberg.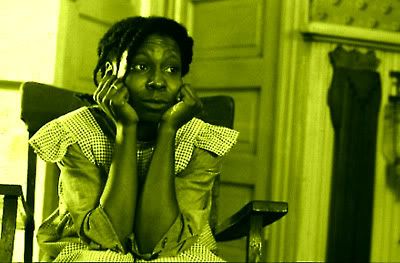 Celie is a quiet woman, therefore Whoopi has to always be either quiet or an onlooker to the tough situations that seems to grow around her life. She wants love, and finds it in strange ways with many different people, including her husband's mistress. But, what strikes me most about Whoopi's performance, is how lovable she made Celie. A woman you deeply feel sorry for, but will know one day she will finally snap and leave (which she does). It's great to see an abused, but smart woman finally try to take some control over her life, after all this time, not knowing what to do.
Whoopi also gets the joyful side of Celie perfectly down. Through all the hardships Celie went through, she always found some escape from Mister, and Whoopi feels this insecure spirit that keeps driving Celie throughout the movie. It's hard to believe, but this was Whoopi's first time acting, and well, it never shows that she was inexperienced. The role was really meant for her, as I couldn't see anyone else bringing both Celie's dark and bright side to the screen the way she did. A wonderfully effective performance that drives the film with it's beauty of life message.