Luise Rainer won her second Oscar for playing O-Lan in The Good Earth.
The Good Earth is sort of an epic tale of a Chinese couple who struggle throughout their marriage. No, no martial problems here, more like hell on Earth, like hunger and poverty. What starts off as a promising marriage - a poor farmer takes a wife who was a former slave, and together they learn that they could survive with each other, whether it be physically or emotionally. The Good Earth, as a film, is very good, maybe not perfect but still well made. The casting of the American actors never bothered me, because it's never apparently obvious.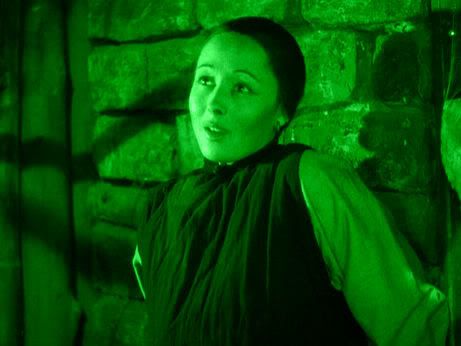 The grace and human connection of this story is O-Lan. She is withdrawn, hard working, self-sacrificing, and very quiet. What's most fascinating about O-Lan is how she is able to make decisions without seemingly thinking about them. She is a humble character, who supports her husband and encourages him to follow his hopes and dreams, no matter what stands in their way. Luise Rainer perfectly shows O-Lan is woman who doesn't let anything stand in her way, yet she is utterly helpless. From her extremely wild closeups where we see her vulnerability to her long shots where we see her pain, she crafted a master performance that shows how subtle acting can be.
But, this is a complex character, and that is surprising. When we see a key, disturbing moment involving her newborn, Rainer so mysteriously underlines her character with depth and an endless amount of vulnerability. Yes, there is some overacting in the performance, but it's not the kind that distracts you from the performance. It's wonderfully handled. And I can even say I find the performance limited these days, since O-Lan really doesn't have alot of dialogue and only opens her mouth when something is practical, but there is no denying this is a terrific performance that has to be peeled away to find all the depth that lies within it.