Katharine Hepburn received her tenth Oscar nomination for playing Mary Tyrone in Long Day's Journey Into Night.
Although I think the play itself is an incredible piece of work, the film version of Long Day's Journey Into Night is terrible. The film feels like a play, instead of feeling like a movie - and the acting from the cast ranges from horrible to outright laughable, Ralph Richardson in particular. The famous story centers around a dysfunctional family: a forgotten actor, a sick son, an alcoholic son, and a drug addicted mother. Together, they fight and argue about their failed dreams and their hopeless future.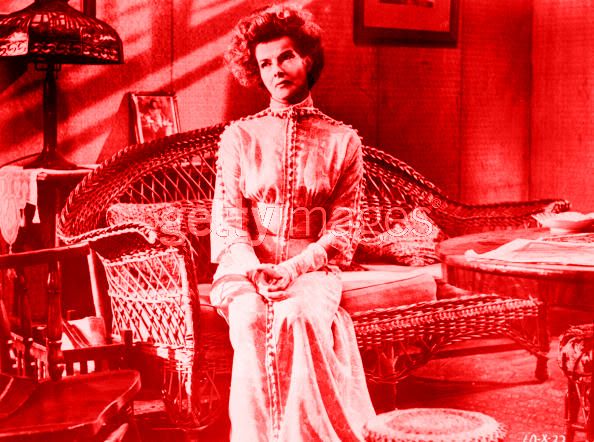 Mary Tyrone is certainly a character an actress has to handle delicately. She is on the edge of sanity, yet is still mentally competent - it could easily be over the top or ridiculous. What better actress could bring that vulnerability of surrealism to Mary then Katharine Hepburn? Actually, in my opinion, Mary isn't that showy of a part - a brilliantly written one, but not one that makes you go immediately to her. Yet, Hepburn makes her irresistibly pathetic. We can't pity her, and even at points in the film, Kate injects terror into Mary, making her a very frightening woman.
Katharine Hepburn is a force on screen. She knows how to play the character since so many had before, yet she brought a real "spark" to the role that makes her unforgettable and relentless. In a way, it feels like a dream - she makes her character's own problem a problem with the audience. It's unfortunate how much the film brings her down in parts, not to mention her fellow actors, but it still doesn't matter. Hepburn is amazing in a very difficult part, that required her to shed every sense of stardom she may have ever had. When we see her play the piano and fantasize, you can feel her pain, her misery, her needs, and her dreams.