Jessica Lange received her fourth Oscar nomination for playing legendary country singer Patsy Cline, in Sweet Dreams.
Sweet Dreams is better then most make it out to be, but I've heard it's very fictitious in it's depiction of Patsy Cline, her career and marriage. Instead of really focusing on her short, but fantastic music career, the film chose to follow her rocky marriage. The movie, really is somewhat standard, but the writing is surprisingly good, and of course, Ed Harris and especially Jessica Lange, bring it to life.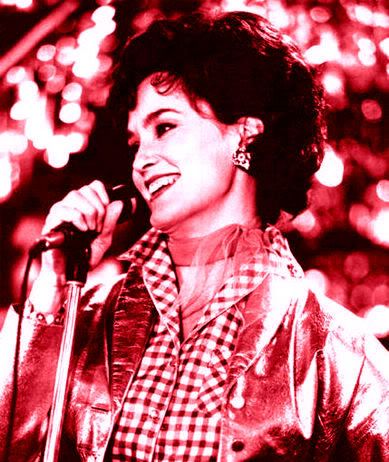 Patsy Cline was a country singer who really hit it big in a short period of time. She burst onto the country music scene with her big, distinctive voice that set her apart from every singer in her time. She was outspoken, but good hearted, and continued to bring her country values to her music and life. Her life became painful once she married Charlie, and the film, more or less, focuses too much on their relationship, but still this is her life story, and he played a huge part in it.
To put it quite simply, Jessica Lange is terrific as Patsy Cline. It's extremely hard to get a biographical performance just right, sometimes it the appearance, sometimes it the sound, and amazingly, Lange has neither of those. First of all, Jessica Lange bares a resemblance of Patsy Cline, but doesn't really look like her that much. And second, Lange lips syncs to all of Cline's music. But, amazingly, it doesn't matter, it all seems very natural and real. It's all emotions here with Jessica Lange. Patsy is so feisty and lovable, you never get the feeling you are watching someone imitate Patsy Cline. And her constant arguing with Ed Harris is never over the top with either actors.
Even though there are things working against Jessica Lange here, she is still able to turn in a fantastic performance that really shows the multifaceted personality of Patsy Cline. She gives a performance that even border on tour-de-force as the bold, argumentative Cline. But, she never looses the fact that through it all, it was her music that she loved and escaped too. A really great performance!