Janet Gaynor received her last Oscar nomination for playing Esther Blodgett aka Vicki Lester in A Star Is Born.
This version of A Star Is Born is very interesting. It's less musical as the 1954 version and it's more dramatic then the 1976 version. There's nothing wrong with this version, in fact, I quite like it - no matter if there's not alot of what the other versions offer, it's still very good. The classic story of Esther Blodgett, who ventures off to Hollywood with big dreams. Slowly, she becomes a sensation and falls for what was her favorite movie star, Norman Maine. The two share a sentimental and deep relationship that is touching and delicate when it comes to movie romances.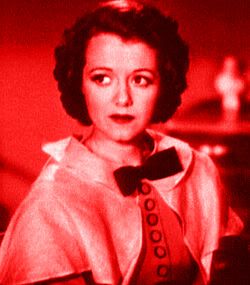 The first "best actress" Janet Gaynor plays Esther/Vicki - a naive, yet lovable woman in the beginning, and a lovable, glamorous woman in the end. Esther is quite a different woman, she has alot of dreams and fails to see the world outside of the glitz and fake stardust of Hollywood. Once the story gets way more interesting and she takes up with drunk Norman, Vicki becomes a sensation in Hollywood. Her acting career has taken off, but his is failing, causing their love affair to take many twists and turns.
It's horribly unfair to compare Gaynor's performance to Judy Garland's legendary turn, because even though it's the same character, they both have very different movies and very different motives. Janet Gaynor is terrific in her own right, bringing out both the childlike innocence of the character and the true "star" quality that such a role required. Of course a younger actress should have been cast, and it's hard imagining mousy Gaynor as a "born star" but still, it's like there is an aura around her performance, waiting to be discovered, just like Esther. There are a few flaws, like the age distraction, but overall Janet Gaynor's dramatic talents come shining through in the part, and makes it very impressive.