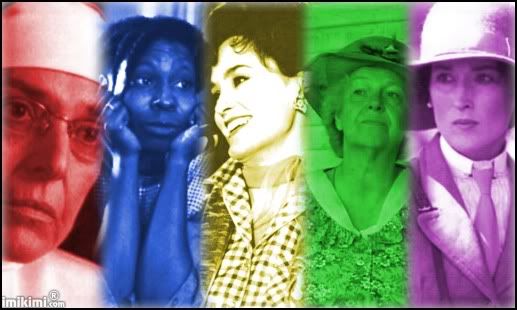 ---
5. Anne Bancroft in "Agnes Of God"
- Anne Bancroft does a whole lot more with her character then what's at first glance. She is terrific at giving a warm, yet frigid performance.
4. Meryl Streep in "Out Of Africa"
- Meryl Streep is a bit uninteresting, but the best thing about Out Of Africa. She is not annoying with her accent and successfully manages to make her character stand out against the exterior of Africa.
3. Whoopi Goldberg in "The Color Purple"
- Whoopi Goldberg is delightful and heartwarming all at once. She is powerful on-screen, never making a misstep any step of the way.
2. Jessica Lange in "Sweet Dreams"
- Jessica Lange is perfect here - investing so much charisma and life into Patsy Cline. It really doesn't matter she lipsynced because she makes up for it for her powerful characterization.
1. Geraldine Page in "The Trip To Bountiful"
- Geraldine Page is simply devastating in a simple, yet feelingly powerful performance that she projects on screen wonderfully. Her performance is a masterpiece; sometimes humorous, always entertaining, and always haunting.
---
Honorable Omissions: Cher in "Mask"