Natalie Portman received her second Oscar nomination for playing Nina Sayers in Black Swan.
Black Swan is certainly an interesting accomplishment. The film has almost gained a sort of iconic status that is surely surprising, as this is not the typical film you would see pleasing audiences and critics alike. I find it to be a hugely terrific film that makes you think about how the art of movies actually takes. The story of a ballerina who puts herself through an exhausting existence in order to be "perfect". She finally achieves the main role of the Swan Queen, but finds her world is starting to go haywire...or is it just her?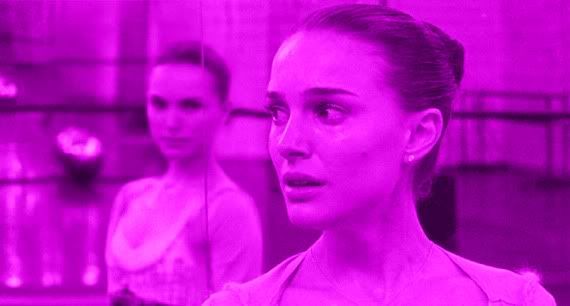 Natalie Portman plays Nina - the frigid perfectionist who pushes herself farther and father into her dancing. She has the drive for dancing, but she is much too self-conscious to be a terrific ballerina. She is plastic, spoiled, and horribly insecure. Natalie Portman uses her shrill acting style to perfection here - her pulled back hair and little girl, annoying voice match perfect with Nina. Of course, Portman does some fantastic dancing, and it matches her challenge that she had to learn all of that for the part. However, that doesn't mean her performance is something groundbreaking or amazing.
Portman is fantastic when the director and her meet on the same level. Like in Nina's most bizarre scenes, the craziness of it all become incredible moments for Natalie Portman. It's far from perfect, but what she does achieve is an original creation, that when she knows how to handle herself with the material, everything comes out perfect. I give Natalie Portman alot of credit for not playing Nina with sympathy and the dancing is terrific even though it's not what I would consider worthy of an Oscar.