Michelle Williams received her second Oscar nomination for playing Cindy in Blue Valentine.
Blue Valentine is one of the most fascinating films made in recent years. Not many films can so fluidly discuss relationships and love in a straight forward & disturbing way. What Blue Valentine achieves is a brilliant combination of romance and heartbreaking doom that comes with years of torturous mistakes and bitter resentment of life. The story of a couple who in flashbacks fall in love and in present time, slowly fall out as they face their resentment for each other.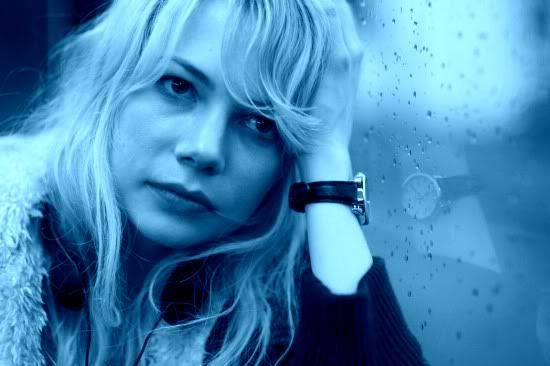 Michelle Williams plays Cindy - a nurse, who has overcome emotional turmoil that was supported and healed by her husband Dean. In the beginning, she is obviously a woman who is not happy with her life, things have become boring and her husband has a child-like personality that almost constantly annoys her. Through the fantastic flashbacks, Williams shows Cindy is a naive girl who wants more then she has. Her boyfriend keeps pushing her for more and more, and when she finally gives in, she makes some brutal mistakes.
Some of Blue Valentine's brilliance comes from spontaneous outbreaks from the cast that are incredibly realistic. Williams knows exactly how to show the many bitter sides to Cindy - at glance, she becomes a resentful, bitchy character, but once we see more and more of her, and the circumstances she has had to face, we become more sympathetic with her. She doesn't beg the audience for their sympathy and neither does Ryan Gosling, but we cannot help but feel their pain. Michelle Williams truly shines, especially when the director calls for her to be emotionally naked - she delivers every powerful punch beautifully.