Annette Bening
received her fourth Oscar nomination for playing Nic in The Kids Are Alright.
The Kids Are Alright is quite a mixed bag. On one hand, you have a terrific film with some excellent acting all around. But, on the other hand you have a very mediocre story that has it's ups and has it's downs. But, still it's an entertaining film that's perks outshines it's flaws. The story of a lesbian couple whose kids seek out their sperm donor father. He interrupts the already tense couple and cause them many problems that perhaps could have never happen.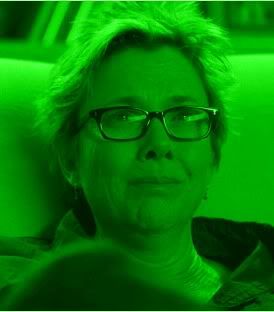 Annette Bening plays the more practical woman, Nic. She hates the fact that her partner Jules has potential but chooses to float her way through life. She quietly drowns her sorrows and insecurities in drinking, and slowly she feels her world crumbling around her. Annette Bening wonderfully humanizes the character of Nic - she is wonderful in so many scenes, doing so much with her thin material. It's easy to see why she is being recognized for the performance because of that reason.
Nic isn't necessarily a shrill woman, but just more practical and logical thinking. It's not to say her partner Jules is out of her mind, but she is much more "free" living then Nic. Bening shows how her character cannot change - everytime she sets out to make a change, it never works for one reason or another. She brilliantly shows humor as well as emotional intensity, no matter what the scene calls for. Especially the entire dinner/confrontation sequence, this is arguably the best work Annette Bening has put her name on. A magnificently great performance that continues to impress me.