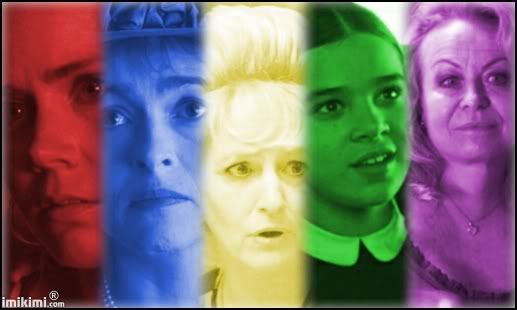 ---
- Hailee Steinfeld's obvious acting experience and obvious coaching by the filmmakers is present in nearly every scene. With an hour of screentime, you would think something would work out, but for me, nothing does.
4. Helena Bonham Carter in "The King's Speech"
- In a wretched role in a horrendously awful film, Helena Bonham Carter simply has nothing to do. Could she? Absolutely, but she played the Queen Mother exactly how it was written: loving and charming. Nothing more. Mediocre and boring without any redeeming values.
3. Melissa Leo in "The Fighter"
- Melissa Leo walks a fine line in The Fighter, always between morose and hysterics. She carefully always walks that line on screen, and memorably screams and shouts. Other then that? She's hollow, only able to fill the screen when she is chewing it and she doesn't even go fully over the top, always drifting below it, making it more and more unbelievable.
2. Amy Adams in "The Fighter"
- The Fighter doesn't do justice to anyone, but Amy Adams managed to walk away showing she had the most acting ability in the production. With the littlest line (no matter how ridiculous they might sound) she successfully shows her character's facade and vulnerability. Very uneven, but what she does is commendable especially for the role.
1. Jacki Weaver in "Animal Kingdom"
- It takes awhile to even begin to understand what Jacki Weaver was trying to do with her part, but she successfully creates her arc and follows it very clearly. She's like a fly throughout the film, only making an impact when you allow her too - but when she does shine, she's great at it.
---
Honorable Omissions: I would have loved to have voted for Jackie, and no I don't mean Miss Weaver. Ah, well at least you have my respect Swan understudy/Meg Griffin.