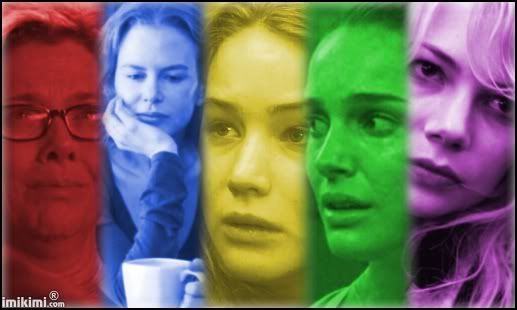 ---
5. Nicole Kidman in "Rabbit Hole"
- I dare say Nicole Kidman is only a versatile actress when she is playing unhappy women. But, when she does know how to act well, she really sells it and becomes stellar. Here she has only a few moments where "Nicole Kidman" takes over, but for the majority we see an unflinching look at grief.
4. Michelle Williams in "Blue Valentine"
- Raw, indescribably natural, Michelle Williams packs a huge punch in Blue Valentine. She starts out on a high note and keeps that same approach to every scene she puts herself through, including the flashbacks. By lingering around the screen, always showing her character's apparent insecurity, Williams crafts a magnificent performance.
3. Natalie Portman in "Black Swan"
- Alot of Natalie Portman's performance requires her physically and while there's nothing wrong with that, it's not exactly what I would consider amazing acting. However, there is no denying this performance is simply dazzlingly, giving the limited Portman the role tailor-made for her. Her stilted acting style works perfect with the stilted ballerina, creating a haunting and beautiful experience.
2. Annette Bening in "The Kids Are Alright"
- Annette Bening is another actress who doesn't necessarily always work with me, but she arguably hits a high note here. Her wonderful performance stays with you as much as her comic delivery - her best moments are her dramatic moments, when her character reflects and deals with her problems openly. She can be both humorous and heart-wrenching.
1. Jennifer Lawrence in "Winter's Bone"
- It's been awhile since a performance has been so realistic. Where is the line between Lawrence and Ree Dolly? Her beautiful face and sensible attitude matches perfectly with her characters naivety and angst. With every scene, she plays Ree as if she's been this girl forever - finding new angles and anxieties to fit her character arc. A brilliant performance based on how much realism she can evoke, and she surely evokes alot.




---
Honorable Omissions: Julianne Moore in "The Kids Are Alright".