Jacki Weaver received her first Oscar nomination for playing Janine "Smurf" Cody in Animal Kingdom.
It's amazing that one has to watch Animal Kingdom twice to fully grasp the film entirely. I thought "well, I think I should go back and try to look more in depth to Jacki Weaver" and ended up coming out sort of liking it. The first time around, it's bizarrely subtle, always hinting at things, but hardly ever showing. But, when you watch it again, all of that quiet intensity makes more sense and becomes much more interesting. The story follows a 17 year old boy who must involve himself with his extended family after his mother dies. His grandmother takes him in, but he soon realizes the entire family is involved in crime. Slowly, he finds himself more and more grasped by the family and the crimes.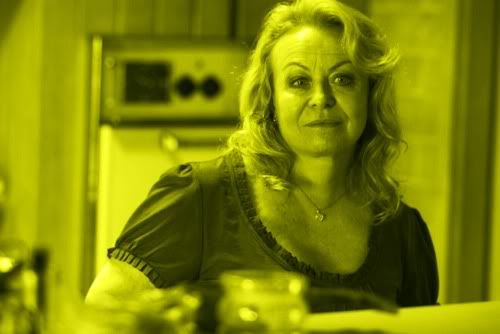 Jacki Weaver plays Smurf, the grandmother of the main character and the mother of the troublesome sons. She is at glance a seemingly loving, sweet, and supportive woman who takes alot of pride in her family. Through talk from the other characters, however, we find this woman has her evil side. She knows how to manipulate people, not just her family. Jacki Weaver is like a fly on the wall during the majority of Animal Kingdom - you notice her, but her performance never screams in your face. If you are specifically watching for Jacki Weaver, more then likely, you will be disappointed.
It's only in the final act that Weaver's performance becomes more humanized and fascinating. She easily becomes the most interesting character in this year's race - her power over her family becomes amazing and diabolical, and Weaver finally gets to shine in the light. But, we have to wait until the final moments of the film to even see her shine, so the question is, does the earlier scenes live up to the great latter scenes? No, not really, but when she is on screen, Jacki Weaver does make the best of it. It's hard to judge, but it leaves an impact.