Helena Bonham Carter received her second Oscar nomination for playing Queen Elizabeth (or better said Elizabeth Bowes-Lyon) in The King's Speech.
The King's Speech is a piece of boring garbage. It's the kind of movie that comedians and the general public often associate with Oscars, it's what gives the awards the unpopular nature it receives. Ultimately, while watching it you can only think it was made to get someone an Academy Award for something. And don't even get me started on Colin Firth...never seen such "I want an Oscar right now!!" acting. The story of King George VI and his stammer that kept him from giving empowering public speeches. He finally starts to find his voice when his wife contacts an eccentric speech coach.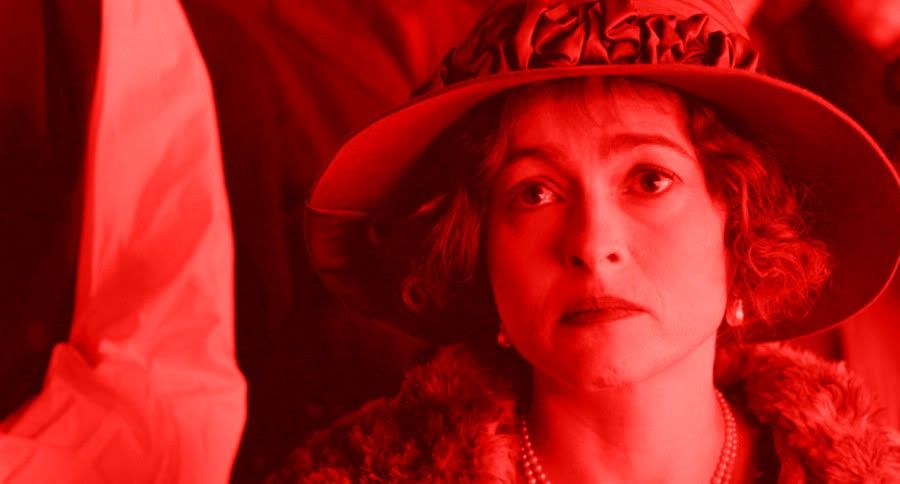 Helena Bonham Carter is given the rather thankless part of Elizabeth. She plays the same kind of character I've seen a thousand times: a dedicated and supportive wife who will help her husband any way she can. The character is never given a chance to shine or even let us get to know her, because the movie is not interested in her, so why should we care? Of course, an actress can always breath life into this stock character, but (not surprisingly) Carter is not able to do this.
When the camera is on her, all she can help to do is something with her face, like raising her ugly eyebrow or having a sad puppy dog look on her face - interesting, since she doesn't have much of a storyline to follow, but that doesn't make for good acting. Her character never jumps off the screen, and it doesn't help Helena Bonham Carter herself is boring and lifeless in the part of the Queen Mother.