Loretta Young

received her last Oscar nomination for playing Sister Margaret in Come To The Stable.
Come To The Stable was clearly not a movie that I was going to enjoy right from the beginning. Two French nuns show up in a small American town, unexpectedly, and decide to build a children's hospital! Didn't like this movie at all or the corny sentimentality that seemed to seap through every scene.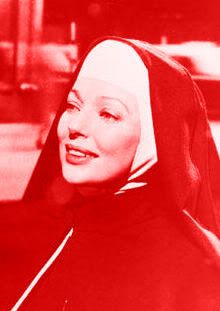 Loretta Young plays Sister Margaret, the more sassier of the two nuns. I'm not even sure how I should approach this performance, since to be honest, there is barely anything to write about it. Sure, Loretta Young is the star of the movie, but the biggest highpoint of her performance is wearing the habit. She mostly stands around, or talks about God or say she will never give up on building a children's hospital. I mean, there is simply nothing here for me to praise!
Neither is her performance entertaining or insightful, or even properly done. They're French, but Loretta Young sounds like she has a light British accent. It's a harmless, nothing performance that within the context of the film, works just fine. Come To The Stable is nothing that was going to remember for years and years, so a couple of forgettable performances wouldn't hurt being shown in it. Unfortunately, Oscar also had to recognize it, which could be chalked up to religious sentimentality.
Loretta Young gives a harmless, worthless, uneven performance that might fit well in her movie, but was no great performance by any means.