Ellen Burstyn
received her second Oscar nomination for playing Chris MacNeil, an actress, in The Exorcist.
I'm not sure entirely what to make of The Exorcist. While it has some undeniably, frightening, out of this world scenes, it's also features some plastic dialogue. I also don't think it's the scariest movie ever made. For me, frightening films come in all sorts of different varieties, but I find it has to be some realistic to actually scare me. I think for the most part, The Exorcist is a drama (which it succeeds at) about a mother trying to figure out what is the matter mentally with her daughter.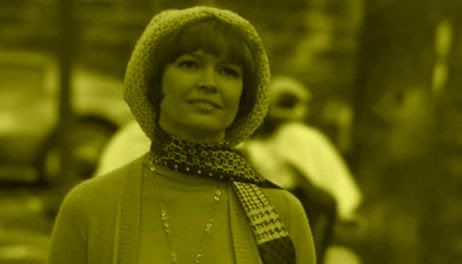 It's really up to Ellen Burstyn to set a dramatic foundation for the film, while Linda Blair adds the horror foundation. Actually, Ellen Burstyn does alot in this film, besides fighting the demon inside her daughter. Chris is an actress, it's never very clear if she's a popular actress, but I'm assuming she's not. Chris is also dealing with the fact her ex-husband wants nothing to do with Regan, and she's struggling with excruciating stress, because Regan is starting to become more mentally strange, and no one seems to know what's going on.
I was quite surprised when I originally watched The Exorcist, and saw that Ellen Burstyn really took her work seriously here. She adds little ticks and facets to Chris, making her caring, if a little high strong woman who doesn't like being under pressure. Like when she argues with the doctors in her house or when she first finds out Regan used a curse word, she's extremely realistic and impressive in focusing on Chris's large amount of emotions for her daughter. She fearlessly takes on this role, which a big bonus from me. She's holds nothing back, even in her quietest moment, Burstyn grabs hold of Chris's grief and utter confusion.
A performance that could easily go unappreciated considering this is a film that is supposed to be the scariest of all time, someone might looks for the thrills or stunts, but Ellen Burstyn doesn't let Chris go unnoticed, and on top of that, The Exorcist isn't a typical horror film. She gives a realistic performance in an unrealistic situation.