Deborah Kerr

received her first Oscar nomination for playing Elvyn Boult, in Edward, My Son.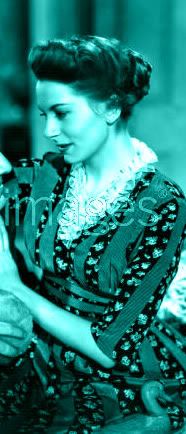 Edward, My Son is bland melodrama that never knows if it wants to be a alcoholic drama or a melodrama between a husband and wife. Maybe it's both, but the story really never lifts off the movie. Spencer Tracy is mediocre as usual, and no one really stands out in the cast either. The story follows Arnold Boult, a man who tries his best for decades to help his son become a success, but ultimately his disease ends up harming the son more then he ever expected.
Most of Deborah Kerr's Oscar nominations were for playing girlfriends/wives, and sometimes I wonder if she had this against her when it eventually came to the award, since it's been a trend for the Academy to give the actual award to strong women type roles, espeically in the leading category. Here she plays Evelyn, who barely has a storyline at first. She loves her son, that's about the only thing she gets to do there. Then, as the years go by, and her son eventually dies, she becomes more withdrawn and bitter.
Simply, she's not very good here. She sleepwalks through the first half, relying on her charm, and in the second half, she's one of the least believable drunks I've seen. She overdoes it with stretching out her words like "Arrrrrrnooooold" and there's even moments that were unintentionally funny. She does however have a great last scene that seems so misplaced compared with the rest of her performance. But, Deborah Kerr's connection with Evelyn is missing. She relies too much on the drunken gimmick and relies too little on how the audience will see her emotions, her bitterness towards her husband.
Deborah Kerr didn't necessarily have a nicely written part to begin with, but she ruins what could have been, with not shining enough in the beginning, and overdoing it in the latter half of Edward, My Son.