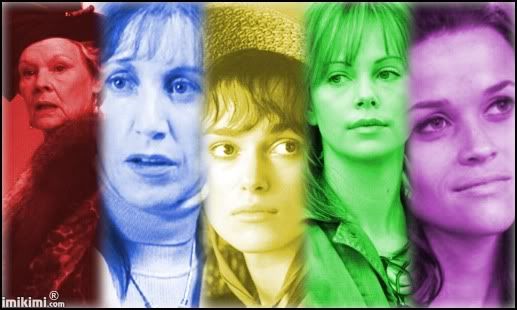 ---
5. Reese Witherspoon in Walk The Line
- Reese Witherspoon doesn't know how to play June Carter, whether she is trying her best to sing or failing to be sassy or remotely interesting.
4. Keira Knightly in Pride and Prejudice
- It's clear from the beginning, Keira Knightly is going to give one forceful performance, but what isn't clear is how she knows Elizabeth, the one Jane Austen wrote, not what the one her director wanted.
- Judi Dench doesn't take Mrs. Henderson seriously, but she also fails to add any clairty or reason behind her character's actions, which turn the performance into something uninteresting and boring.
2. Charlize Theron in North Country
- With so much effort, Charlize Theron shows the dignity and courage of a woman who has been harrassed for the last time, in a man's world. Her performance takes many twists and turns but in the end she always holds it together.
1. Felicity Huffman in Transamerica
- Felicity Huffman gives a performance that is perfect in many ways. First of all, there is no gimmicks, whatsoever attached to her performance. Yes, here is a woman playing a man becoming a woman, but she adds many layers, facets, and complexities to her character with sadness and even humor. A brilliant performance.
---
Honorable Omissions: Lauren Lee Smith in "Lie With Me", Gretchen Mol in "The Notorious Bettie Page" and Zhang Ziyi in "Memoirs Of A Geisha"