Meryl Streep
received her third Oscar nomination for playing two different characters, Sarah and Anna, in The French Lieutenant's Woman.
The French Lieutenant's Woman is an interesting movie, trying hardly to make you believe it's crazy storyline, and for me, I found it to be fine. The story studies an English biologist (Jeremy Irons) who falls for a outsider Sarah (Meryl Streep), and then we find ourselves in a completely different story following the actors Anna and Mike, who are playing the two in a movie.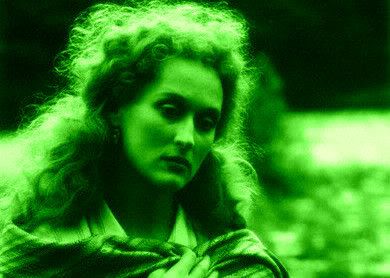 Meryl plays Anna with fierce outspoken and independence. She is a woman who is has been completely shunned by her town for a torrid affair. She is full of guilt and depression but her romance with Charles really gives her a new lease on life. As with any Meryl Streep performance, it's technical. But, this is early Meryl, and she commands Anna with the such outspokenness that she deserves.
I actually sort of like the performance of Anna a bit more. Here Meryl Streep is simply playing a warm actress who is trying to get inside the mind of Sarah, and the heart of her co-star. Again, it's so simple, but she makes it look so challenging to play both. Anna is warm, loving, and more then anything, interested in her work as an actress.
My only hint of criticism is not making Anna/Sarah more interesting. The movie isn't that entertaining in the first place, but it's up to Meryl and Jeremy Irons to save it, and personally, I find it a great effort, but not entertaining.
This performance won't be for everyone, especially ones who don't like obvious acting. I myself hate when I can spot when someone is obviously acting, but oddly, here it works. She draws a line between her two characters and the end result is really something special. A great performance from early Meryl Streep.