Luise Rainer won her first Oscar for playing French singer, Anna Held, in The Great Ziegfeld.
The Great Ziegfeld is a blown up, exhausted epic about Flo Ziegfeld, the legendary Broadway showman. His life, his success, and espeically his romances. One of those romances was Anna Held, a well known French singer, who he transported to America to become a huge star.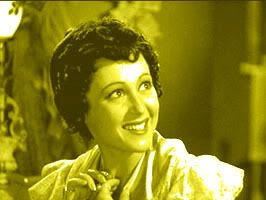 When it comes to film history, Luise Rainer is a star, but when it comes to lasting appeal, she comes up short. Rainer was new to film, and even newer to Hollywood when she took on the demanding role of Anna Held, and at times, you get embarrassing "obvious" acting moments. Like when she grabs her shirt and yells or when she misses the punchlines of her jokes.
But, still it's hard to deny Rainer is the sunlight in her film. She enters this stuffy movie and opens a window with her hummingbird looks and humorous persona. Anna Held is a self aware woman who wants alot, and gets little, especially from Flo. Rainer, again, portrays Anna with so much character and persona. It's those embarrassing, obvious moments that get in the way of her performance being great.
Which brings me to her last scene...the infamous telephone scene. This scene alone makes up for almost her entire rating. In this one scene, she conveys so many emotions, as she fake congratulates her ex-husband on his success. It's one of the best scenes you'll see by an Oscar winner.
But, I guess it doesn't help either that Luise Rainer barely has enough screen-time to do alot in, but her presence and humorous acting in the beginning, and sorrowful acting near the end are proof that it is a fine performance. However, I can not get past those obvious acting moments that are scattered around her performance.