Jodie Foster received her first Oscar nomination for playing Iris Steensma, a teenage prostitute, in Taxi Driver.
Taxi Driver is an terrific, incredible film about violence. It's just astonishing in it's brilliance. The acting is really first rate, including Jodie Foster.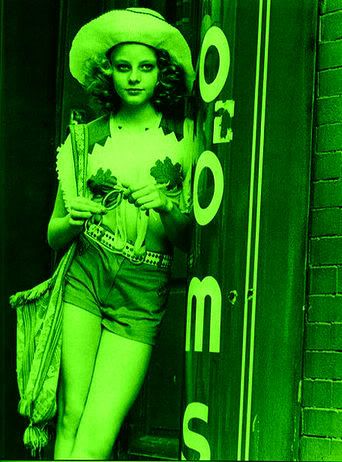 She plays Iris, a 12 year old runaway who has come to New York City and has taken up with a pimp. She appears on screen when she tries to run away from the pimp, and Travis Bickle, the taxi driver, has taken a strange interest in her. This continues as Travis soon makes it his goal to get Iris back to her family and off of the streets. Jodie Foster portrays Iris with a smart attitude and worldly sense. Which first of all seems all wrong for the character. I mean, she is 12, but Foster plays her like she's maybe 17 and has been around for a very long time.
But, regardless of that, I still think Jodie Foster is giving a very good performance for someone very young. Her scene with DeNiro where she thinks he just wants to "make it" is fantastic because it shows Iris may be a smart hooker, but she's also just a little girl, who likes to be showed kindness. And then, their "date" is also a great moment for Foster to shine as she finally shows Iris's playful sensibility about herself.
Be as it may, I still think she played most of it all the wrong way. And the ending scenes don't feel nearly as effective as they should have. But, it's still an undeniably big part of the movie, and Foster adds so much playfulness and youth to the role of Iris, that it is very hard to ignore. Maybe not the best way of playing it, but a truly great performance nonetheless.