Diane Keaton
received her second Oscar nomination for playing socialite, Louise Bryant, in Reds.
Reds is an overblown, but well intentioned film, about the 1917 Russian Revolution. But, like any epic, we also get a love story. This time it's between journalist John Reed and married socialite Louise Bryant.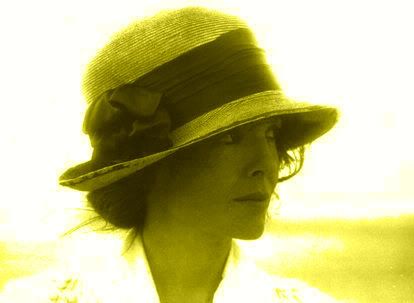 We first meet Louise when John does, she sees him a political lecture, and she is immediately interested. After she meets him, she feels her life is rather uninteresting, leaves her husband and joins Reed and his friends in their politics. Her only escape has been her writing, and her life is finally lightened when she becomes more interested in radical politics.
Louise Bryant is a chance for an actress to really show her abilities. And unfortunately for me, Diane Keaton is a missed opportunity.
I suppose it's the way she plays the role, it's almost on one note. Take the train scene for example, here she merely looks nervous, and when she is finally reunited with Reed, she simply sighs. It's borderline robotic acting. Not to mention her character really changes, but watching Keaton play her, it's impossible. Her acting never goes from point A to B.
But, I must say her presence in Reds is immense. Warren Beatty's camera is in love with her, with many closeups, that really work. However, it is that robotic acting that really brings it down. Even the affair with Eugene O'Neill (Jack Nicholson), Keaton never shows the emotions her character is feeling. Not to mention the way she sprouts out her lines, it all just doesn't mash up. She has to act with her eyes sometimes, and these scenes works, it's until she has to deal with some sort of emotion that it fails.