Carole Lombard
received her only Oscar nomination for playing Irene Bullock, a ditsy socialite, in My Man Godfrey.
My Man Godfrey is an ensemble comedy about a butler, Godfrey Smith, and how he is brought to work at the kooky mansion of some rich family. Frankly, I don't quite get My Man Godfrey. It tries so hard to be a riot comedy, even make a political statement, but it fails. The screwball comedy is all wrong here, mostly because the writing simply sounds terribly when spoken.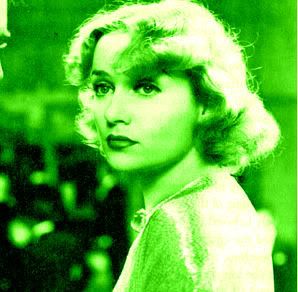 My admiration for Carole Lombard's performance has almost disappeared. Originally, I thought she gave a very funny, crazy performance. Fast forward to today, and now I think it's very in sync with the movie, not very good. She plays Irene, a kooky, almost idiot socialite, so uncharacteristically. The role is supposed to be played with nativity, not idiocy.
And while Luise Rainer and Gladys George suffer from "early" obvious acting moments, Carole Lombard probably has the worst showcase of this. Her comedy timing doesn't work, her chemistry with William Powell is strange, and when she given dramatic moments, she ruins them with her unusual idiot approach to her character.
Still, she has her moments, I guess. When she gets to be sarcastic or just being quiet, Lombard is quite enjoyable, but it's not enough for me to say this is a great performance anymore. Working with the material (which just doesn't work for me) Carole Lombard completely misses the real spirit of the character, instead we get a strange, uneven performance that makes Irene seem like a complete idiot. She also has some unbearably obvious acting moments. I can see the love for it, but I'm not on board anymore.