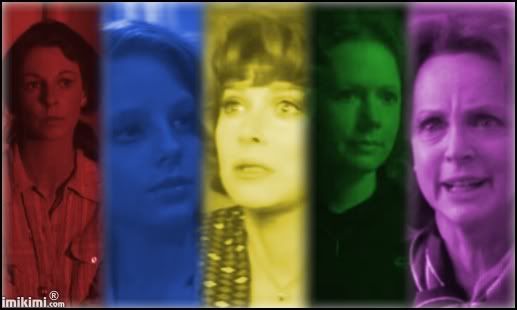 ---
5. Jane Alexander in All The President's Men
- Instead of being terrified, Jane Alexander makes Judy Hoback seem like she's about to pass out from boredom. Unsurprisingly, she does the same thing to the audience.
4.
Lee Grant
in
Voyage Of The Damned
- Without doing much, Lee Grant is able to leave a big impression after her film is over. She tackles her character's emotions effortlessly.
3. Jodie Foster in Taxi Driver
- Even if I criticize it, Jodie Foster is still extremely good as Iris. Her approach to the character may be wrong for me, but every scene is evacuated perfectly and not to mention entertaining.
2. Piper Laurie in Carrie
- Piper Laurie is frightening as Carrie's bible thumping mom, and creates a huge impact on the viewer. A surprising frank look at a religious fanatic, that Laurie tackles wonderfully.
1.
Beatrice Straight
in
Network
- In just six minutes, Beatrice Straight is able to do more then some people could do with an hour. Her disgruntled, wrong wife is a brilliant aspect of the film, with many emotions and many layers. A masterpiece of acting.
---
Honorable Omissions: Alexis Smith in "The Little Girl Who Lives Down The Lane" and Shelley Winters in "Next Stop, Greenwich Village"