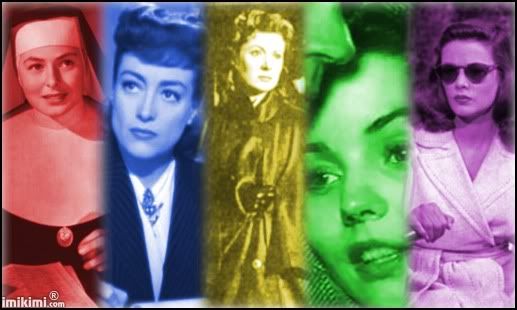 ---
5. Ingrid Bergman in The Bells Of St. Marys
- Ingrid Bergman is trapped in a bad part in a bad movie. Although she tries to add some charm and life to her performance, she often comes off as being lost.
4. Jennifer Jones in Love Letters
- Like Ingrid Bergman, Jennifer Jones is trapped in a bad movie, however she has a good character. She's playing two different characters, and while it's obvious she is trying, she never finds the line between her two characters, making it even more messy.
- All of Joan Crawford's great qualities are at work here. She is great as the tough, career woman, and struggling mom, shining through the movie with her always lovely glamor.
2.
Greer Garson
in
The Valley Of Decision
- Although she is dreadfully miscast, Garson makes an effort to make her character as believable as possible. She has some great moments, and gives a, surprisingly, charming performance.
1. Gene Tierney in Leave Her To Heaven
- Gene Tierney is magnificent as a brutally loving psychopath. In every scene, her incredible beauty, and tough approach to the character are always impressing. A shocking, yet beautiful performance.
---
Honorable Omissions: Bette Davis in "The Corn Is Green"