Diane Keaton received her first Oscar nomination, and won, for playing Annie Hall.
Annie Hall is a rather mediocre film, that I've never understood the praise for, but not Diane Keaton!
Annie Hall is a quirky, charming young woman, who is making a living by being a singer. She develops a relationship with a neurotic Alvy, and this how the story begins.
I've never been a big fan of this performance for the simple fact I always thought she was always too natural or never making Annie interesting enough for me to take her seriously. But, I respect it and highly commend Keaton for giving a totally charming performance.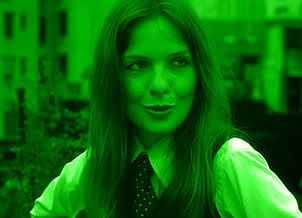 At first, Annie is goofy and carefree, and then after the romance starts to fizzle, she becomes a more serious woman, and Diane stays completely charismatic during all of it.
Alvy and Annie are supposed to be a dysfunctional couple, and I really believed it.
Her singing scenes are well done, and Keaton has quite a nice singing voice. She's almost whispering the songs, and for me, it sounds like it's coming completely from the heart.
When Annie moves to Los Angeles, this is where I get uninterested. I understand she is becoming a more Californian girl, but I really think she lost touch with the effectiveness of the first part.
With seemingly small screen-time, Diane Keaton is able to make a Annie a charming character, and give a lovely performance. I think the second part effects her overall performance, but the first part is is lovely.