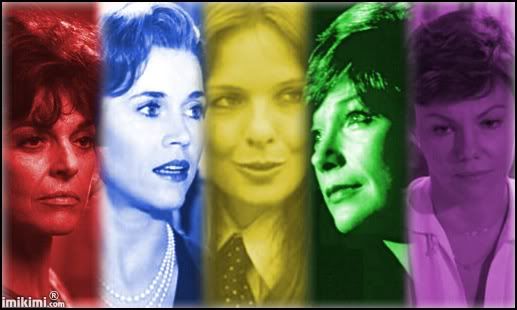 ---
5.
Anne Bancroft
in
The Turning Point
- A great actress turning in quality work, but her film is working against her. Her character is merely there instead of spanning out during the movie. Nice work, but hard to praise.
4. Shirley MacLaine in The Turning Point
- She anchors The Turning Point and makes it the only reason why you shouldn't give up on the movie. She captures her character's fierce inability to cope with her past, while trying to deal with her future.
- Jane Fonda has always been an actress who could turn anything into gold, here she takes Lillian and shows her inner struggle with writing and her deep love for her best friend. Great work from one of the best.
2.
Diane Keaton
in
Annie Hall
- It's easy to see why Diane Keaton won the Oscar, she was in the Best Picture, but it's not just that, she is completely lovable and charming as Annie Hall. A very funny, and again, charming work from Keaton, which has become her signature.
1. Marsha Mason in The Goodbye Girl
- Working with her (ex) husband's brilliant work, Marsha Mason is at the top of her game in The Goodbye Girl. She makes you care for her, and want her to succeed in the world...and like Diane Keaton, she gives a very funny, charming performance as an average woman, with horrible luck in men. A wonderful, carefully constructed performance.
---
Honorable Omissions: Gena Rowlands in "Opening Night", Diane Keaton in "Looking For Mr. Goodbar", Mink Stole in "Desperate Living"