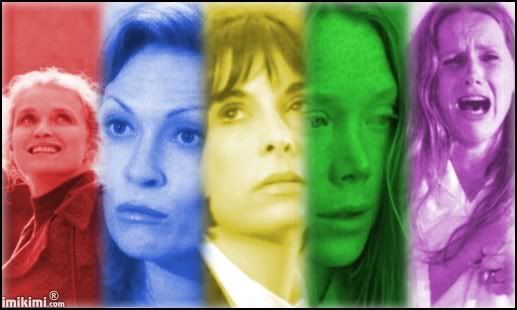 ---
- Talia Shire is stuck in a badly written character, not to mention her mousy behavior she inserts in Adrien does not work. She's trying, but it doesn't work.
4.
Marie-Christine Barrault in
Cousin, Cousine
- Marie-Christine Barrault gives a quiet, nice, sometimes dark performance, that contrasts well with her film. Playing a normal person, in a peculiar situation, Barrault is charming as lovely.
3.
Liv Ullmann in
Face To Face
- Working with Ingmar Begman's brilliantly written script, Liv Ullmann hit heights of perfect with her performance. Not only does she make mental illness feel very real, it's haunting.


2. Sissy Spacek
in
Carrie
- Sissy Spacek is able to turn her tragic Carrie into a formidable, and entertaining character, the carries her film into the iconic status that it has today. She is merciless and deep all at the same time.
1. Faye Dunaway in Network
- It would take a truly terrific performance for me to rank above Liv Ullmann's stirring work, and Faye Dunaway is that performance. Her Diana is brilliantly textured, layered, and handled by Dunaway, as she portrays an emotionless woman, in her own world of television. Simply perfect.






















---
Honorable Omissions: Jodie Foster in "The Little Girl Who Lives Down The Lane" and Jodie Foster in "Freaky Friday"