Marie-Christine Barrault received her first, and only Oscar nomination, for playing Marthe, in Cousin, Cousine.
Cousin, Cousine tells the story of two distant cousins who meet each other at a wedding. The two start to have more then a friendly relationship and even become romantically involved after everyone thinks they are already.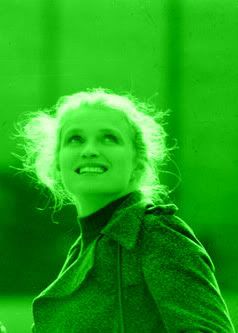 I criticized Anouk Aimee in the past for relying too much on her face to bring out the emotions she was feeling with her character, well thankfully, Barrault takes another way. She not only brings out the harden emotions of this woman, but also, perfectly plays up the humor of the script brings to her. Sometimes Marthe is dark, sometimes hilariously funny, Barrault is able to show all of this, wonderfully.
The most notable problem with Barrault and her leading man,
Victor Lanoux, they are often overshadowed by the actors who play their spouses, Guy Marchand and Marie-France Pisier (who would have been a worthy nominee). But, there is alot of chemistry with her and Lanoux, and Barrault adds the much needed romantic qualities her character needs.
I also love the spunkiness Barrault adds to Marthe, especially when she flaunts off her unusual relationship to her entire family. But, there is also a dark side to her character, which Barrault completely nails.
A pleasant and charming performance that Barrault does great, always lighting up the screen. My only compliant is her supporting players are a bit more interesting and sometimes she doesn't hold well up against them, but still, a lovely performance.