Gene Tierney
received her only Oscar nomination for playing Ellen Berent, in Leave Her To Heaven.
Leave Her To Heaven starts as a love story, but soon turns into something completely different...the journey into the mind of a psychopath, Ellen.
Ellen marries her new love Richard (Cornel Wilde), Richard barely knows Ellen, but one thing he does know, she is beautiful and alluring. But, as time passes, his polio stricken brother dies, not to mention his unborn son...and it all comes back to Ellen.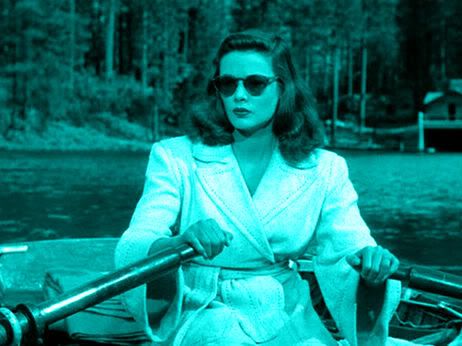 The best two words to describe Gene Tierney's performance is beautiful and shocking.
Gene uses her unbelievable good looks to her advantage. Ellen is a cruel, vengeful, and eventually, villainous character, and it becomes more unreal because of Gene's good looks.
Gene Tierney's performance is also shocking. Tierney had to play this role with the up-most psychological intentions, including appearing crazy, but she never does, incredibly. Yes, her character is crazy, but Tierney never makes her seem crazy. She makes her into a pitiful woman who will hurt or even kill if you try to steal away her man's love.

As her mother would say, "Ellen just loves too much!"
Gene Tierney does a terrific job portraying Ellen. Even though her character has a dark side, you feel for her, and you feel her (non-existent) pain as she protects her man. As Richard gets to know her, so do we, and what we see is an obsessed, beautiful woman.
An impressive accomplishment of a shocking study of a mentally disturbed woman.