Judy Holliday received her only Oscar nomination, and won the Oscar, for recreating her stage role as Emma 'Billie' Dawn in Born Yesterday.
Billie Dawn is an ex showgirl, whose the the mistress of a loud and annoying man named Harry Brock. Brock soon hires a man Paul Verrall, to help Billie talk better and function more in society.
Billie is dimwitted, but not stupid. She likes to be called stupid, because this allows her get whatever she wants from Brock. As the movie continues on, her relationship with Paul becomes more of a love, and she begins to become more intelligent, and begins to think of things in her own way. She is basically living in an ignorant bliss, until her eyes are finally opened.
Born Yesterday, is a horrible movie is you ask me, and this is because of the so called "comedy". None of it works, part slapstick, part witty dialogue. None of the actors due well with it either, except Judy Holliday.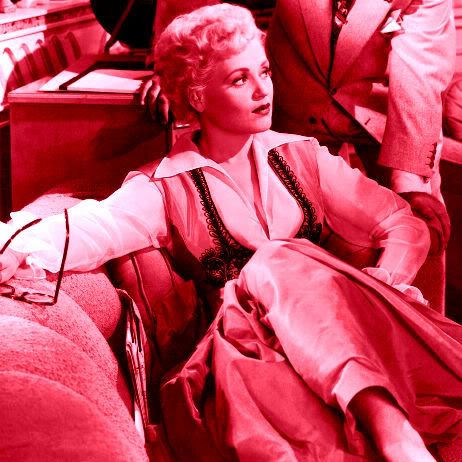 Let me just say, I can respect Judy Holliday's performance, but not love it. I can obviously tell she was an intelligent actress, who had been doing this very dull role on stage, and it still probably didn't work there.
And the biggest problem I had...the voice. I understand how people can love it, but for me, it's over the top. She stretches out every word, and it all feels like she's doing it to get your attention.
And yet another problem I had was Billie after she has become more intelligent. It seems like the last part of the picture is basically just about her having to chose between the two men, and it's very uninteresting, and a letdown, because maybe Billie could have actually been more interesting after she finally opens her eyes up to the world.
However, Judy Holliday still has some good moments. I really liked the scene with the radio and her sudden dance, the gin game, and I can't deny Holliday is very interesting as Billie and it is very easy to watch.
And again, it's obvious Judy Holliday knows how to play the character. She the fresh air this movie has.
She's stuck in a horrid mess, but Judy Holliday is able to give a very interesting, and slightly entertaining performance, that has some very good moments.